Special Interest groups
The special interest groups of GSCL serve as a platform for exchange and collaboration for interested parties from science and industry and are intended to promote the exchange of experience and knowledge transfer within the respective research network.
Special interest groups focus on specific topics from the field of computational linguistics and related research areas. Their activities include the organization of meetings, lectures and workshops as well as joint publications.
And, last but not least: Many students have presented "their" project to a larger professional audience for the first time in the setting of a SIG, thereby dipping their toes in the waters of science.
Membership in the working groups is free of charge for GSCL members.
Publications
Conference Proceedings
The Proceedings of KONVENS and GSCL conferences will be made available collectively at a unified address. Beginning with 2021's edition, the proceedings of KONVENS have been archived in the ACL Anthology.
Journal for Language Technology and Computational Linguistics (JLCL).
The publication outlet of GSCL is the Journal for Language Technology and Computational Linguistics (JLCL), formerly LDV Forum. The journal publishes technical papers and reports, discussions and reviews from the entire spectrum of language technology and computational linguistics. JLCL also regularly features issues dedicated to special topics and edited by guest editors. The editors decide on the acceptance of technical contributions after (at least two) reviews by members of the scientific advisory board (editorial board).
Books
Books in the series "Sprache und Computer" [Language and Computers] (eds.: P. Hellwig, J. Krause) published by Georg Olms Verlag Hildesheim are available to GSCL members at a reduced price.
Portal Computational Linguistics
The web portal Computational Linguistics provides references to CL-related institutions, projects, resources, educational opportunities, job postings, and events.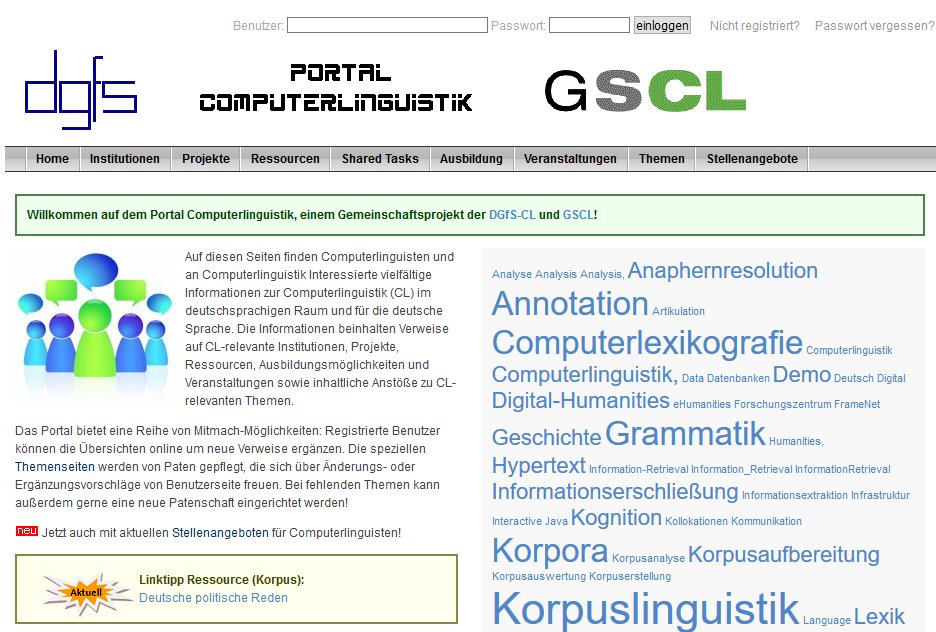 "Portal Computational Linguistics")
GSCL mailing list
Postings related to computational linguistics, technical information, short reviews of books and software, announcements of conferences and events, inquiries, discussion suggestions, etc. can be submitted to the GSCL mailing list at any time by e-mail. In addition, GSCL uses Twitter and LinkedIn for news items on ongoing events. GSCL members receive regular hard copies of the GSCL newsletter.
Awards
The GSCL awards prizes for student theses (BA/MA) and dissertations on an annual basis.
In addition, the GSCL regularly issues stipends to enable students and doctoral students to enable their participation in conferences and workshops.
Funding for Workshops
Upon request, the GSCL offers funding for member-organized workshops, provided they comply with the funding guidelines.
Postal address
Send mail to:
Gesellschaft für Sprachtechnologie
und Computerlinguistik GSCL e.V.
Postfach 10 05 03
31105 Hildesheim
Germany